The Best 5 smart devices for work from home candidates to make your work life easier
Explore the best five smart devices for work from home employees as working remotely has become a trend in recent years, and most people appear to prefer it to being physically present in an office on a daily basis.
However, this is not to say that working from home has only advantages. In fact, working from home can be much more difficult than going to a day job because you don't have a set number of tasks to complete in a set amount of time. Some days you can sit back and do nothing, and then there are days when you do the exact opposite – working all day with little regard for the time.
As if that weren't enough of a challenge, working from home can be even more difficult, especially if you have small children who require your attention every 5 minutes. It can be a huge pain, and coming up with solutions would necessitate a lot of brainstorming.
To your rescue and assistance, I will list some great technologies as well as their alternatives that will cut your "working from home blues" in half.
Table of Contents
Let's take a look at the best five smart devices for work from home candidates in 2023 and beyond.
Smart Devices For Work From Home: 1.RoboVac G30
If you're a frequent social media user, you've most likely seen the RoboVac G30 in one of the videos. It's an enthralling smart cleaning device for your home with dynamic navigation. When you enable it, you can control the device via the app or even your voice, and the best part is that it can adapt to changes in the surface to ensure that every corner is properly cleaned.
When this device has finished cleaning the house, you can view the full report to see which areas it cleaned and which were not. If the battery runs out while cleaning, the RoboVac G30 will return to the charging base and clean again when fully charged.
There are many more exciting features to it, but if you're still not convinced, check out this excellent alternative called iRobot Roomba i7. It has a 10X power-lifting suction that can remove even the most stubborn dirt from the surface.
It's extremely intelligent and works well with pets in the house because it can distinguish between pet hair and dirt. Right from the app, you can easily control the device to tell where to clean and where to avoid. Not to mention its appealing appearance.
Smart Devices For Work From Home: 2.SmartDesk 2 Premium
SmartDesk 2 Premium is a useful desk that elevates on demand and helps you maintain a stable posture by providing a suitable height to work on. It is suitable for both office and home use. The construction is strong and can support up to 300 lbs of total weight without issue.
This desk will look good no matter where you put it because of its simple design that blends in with any environment. You can customise the size, colours, and even the finish, which can be bamboo or wood, in addition to the steel frame.
Flybold's Electric Stand up Desk would be a good alternative. It has a fast lifting speed of 1.5 inches per second and a weight capacity of 180 lbs, which is still quite large. Aside from all of the great features on this desk, one that stood out to me was their inclusion of an anti-fatigue mat. It keeps your feet relaxed while you work at the desk.
Smart Devices For Work From Home: 3.Body Cardio
One significant side effect of working from home is gaining weight without realising it. We only realise after a long time that we're doubling the size of your bellies while sitting at home with little movement. To address this, the Body Cardio smart weighing scale can be extremely beneficial.
It has a modern and stylish design and does much more than just calculate your weight. This scale can be used to monitor the following things: Body mass index (BMI), body fat, water percentage, muscle mass, bone mass, and heart rate are all factors to consider. You can set goals on the provided app and achieve them either on your own or with the assistance of the coaches.
Finally, you can track your progress as well as view reports to see how you're doing on your journey. Renpho Body Fat Scale is a smart alternative that allows you to measure 13 different body composition data. It connects via Bluetooth and syncs with the provided app as well as other fitness apps to enhance the functions.
Smart Devices For Work From Home: 4.Steel HR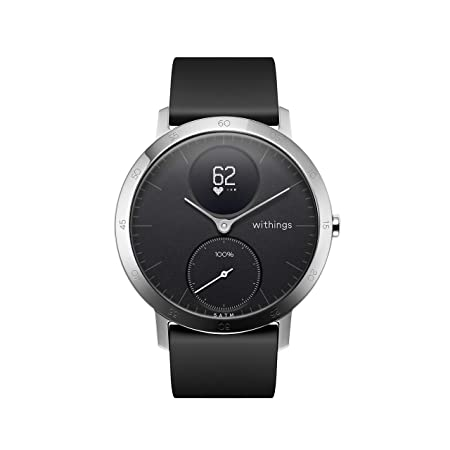 Steel HR is a stylish smartwatch that helps you stay on top of your health at all times. It tracks your activities and keeps a close eye (pun intended) on your sleeping patterns. It's waterproof, and the battery lasts up to 25 days, so you'll have plenty of time between charges to keep the smart device running smoothly.
With the help of the provided app, you can keep track of your progress and even set important goals. The superior feature of this watch is that it recognises your activity and marks it on the device, so you get credit for what you did.
The Apple Watch Series 7 is a viable alternative. It assists you in measuring your oxygen levels, sleeping better, staying fit, and staying motivated in a variety of ways. Not only that, but you can take an ECG right from the watch at any time and from any location. I also highly recommend checking out this fashionable Smartwatch.
Smart Devices For Work From Home: 5.Google Nest Hub Max
Google Nest Hub Max is the epitome of a jack of all trades and master of all. By handling your work efficiently, it makes your life much easier and simpler.
You can make group calls, join meetings, play YouTube videos, connect other smart devices, display your Google photos, set reminders, and ask for recipes directly from your smart device. You can use it as a home security camera to ensure that everything is in order inside the house. To avoid confusion, it can also recognise your face and display relevant notifications only for you rather than the entire family.
Conclusion
I hope the smart resources listed above will help you actually accelerate your life while working from home and make it more enjoyable. Happy working from home!
(Disclaimer: Ismartdevice Team is updating knowledgeable content in this blog from official sources and is not aiming to promote any particular source or business through this and also, do not hold any copyrighting rights under our names for the content)