Best Smart Speaker 2022: Smart Home Speakers With Google, Alexa, and Siri Built-in.
Best Smart Speaker 2022: Are you sick of talking to yourself? When connected to your Wi-Fi network, the best smart speaker options will listen, learn, and assist you, or at the very least, will even crack a few jokes to lighten the mood.
Smart speakers come in a variety of shapes and sizes, ranging from discs to spheres to cylinders. Some wired options live on your sideboard, while others are designed to move around the house thanks to built-in batteries. But every speaker in our guide has one thing in common: they all have microphones to detect your voice and drivers to deliver the answers.
Whether you prefer to taunt Alexa, yell at Siri, or grill Google Assistant, the speakers listed below will bring instant digital assistance into your home. And once your questions are answered, they'll gladly take on DJ duties as well.
Our pick of the best smart speakers
Best Smart Speaker 2022: Sonos One (2nd Gen)
Price: starts from Rs.21, 999
Review: This is the best connected speaker you can buy right now because it is subtle, smart, and pleasant to the ears.
Tech spec: Wi-Fi, Bluetooth, AirPlay 2, Ethernet connectivity; Alexa and Google Assistant smart assistants; N/A battery life; Dimensions: 162x120x120mm, 1.85kg
Shop directly at: https://www.amazon.in/Sonos-Wireless-Bookshelf-Speaker Black/dp/B07P9VM3B7
The second-generation Sonos One may look similar to its predecessor (which looked similar to the Play: 1), but it's a more appealing proposition in a few key ways. A faster processor and increased memory boost performance, while smart assistant integration has been smoothed out.
Don't be fooled by the understated design: this is a feature-packed speaker. Aside from Alexa and Google Assistant, the Sonos One is compatible with Spotify and AirPlay 2. It also has an ethernet port, allowing you to hard-wire it into your network for consistent audio throughout the house.
Sonos made a name for itself with multi-room music boxes, so it's no surprise that this smart speaker sounds fantastic. When it comes to music, it's as clever as anything from Amazon or Google. While doubling up provides the best separation, a single One still produces rich, energetic audio.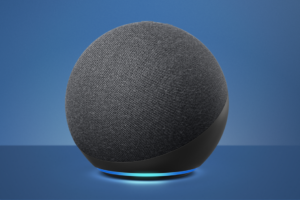 Best Smart Speaker 2022: Amazon Echo (4th Gen)
Price: starts from Rs.9, 999
Review: Amazon's orb sounds smarter than ever, with fuller sound and more responsive assistance.
Tech spec: Wi-Fi, Bluetooth, 3.5mm line in/out • Alexa smart assistant • N/A battery life Dimensions: 144x144x133mm, 970g
Shop directly at: https://www.amazon.in/All-new-Echo/dp/B085FY9NK8
Even if the audio wasn't perfect, it was always easy to recommend an Amazon Echo. That changes with the fourth generation: an all-around upgrade, the updated orb features a 0.8in tweeter and a 3in woofer for improved sonic performance. It also borrows auto-tuning technology from the Echo Studio, allowing it to tailor output to the environment. It won't put up a fight with the Sonos One, but it easily outperforms its price tag.
The smart sphere, designed to look like a melon in a suit, has a repositioned light ring around its base that indicates when Alexa is listening. When you press the button to mute the microphones, it will glow an ominous shade of red.
With a built-in Zigbee hub, you can now connect directly to devices like Philips Hue bulbs, allowing for new possibilities for seamless integration. Alexa is also more responsive this time around, thanks to a catalogue of third-party Skills that supplement her many abilities. Alexa remains our favourite hands-free assistant, thanks to the ability to configure useful Routines via the smartphone app.
Best Smart Speaker 2022: Apple HomePod Mini
Price: starts from Rs.9, 900
Review: Smartly structured Apple's HomePod Mini smart speaker is still a sonic success
Tech spec: Wi-Fi, Bluetooth, and AirPlay 2 connectivity • Siri smart assistant • N/A battery life Dimensions: 84x84x98mm, 345g
Shop directly at: https://www.apple.com/in/shop/buy-homepod/homepod-mini/white
Apple's HomePod Mini, priced like an Echo and styled like a Dot, isn't as accessible as either. It comfortably outperforms expectations in terms of sound, providing more balanced sound instead of something of its size would normally manage. However, it also requires you to jump through a few hoops.
To get the most out of the Mini, you'll need an Apple Music subscription, as native Spotify support is still lacking. There is an AirPlay workaround, but it does not allow for voice control. However, if Apple Music is your preferred streaming service, the HomePod Mini rewards you with excellent sound.
To produce balanced audio, a single full-range driver fires sound downwards through a 360-degree waveguide (and two passive radiators). It lacks oomph, but you can always pair two 'Pods in stereo to fill the space.
Siri is a good listener, thanks to her four microphones, even if her responses can be a little robotic at times. You could even transfer songs from your iPhone to the Mini just by holding them close together, while its Intercom function allows you to send short voice messages to all other Apple devices around the house. This is the obvious choice for those who have invested in the Apple ecosystem.
(Disclaimer: Ismartdevice Team is updating knowledgeable content in this blog from official sources and is not aiming to promote any particular source or business through this also, do not hold any copyrighting rights under our names for the content)