7 Beautiful Smart Home Decor Items you wouldn't know are smart tech gadgets 2023
Discover 7 best smart home decor items that are modern picks for most tech-savvy households.
Not all smart home products are created equal in terms of aesthetic appeal. Many companies prioritise device functionality over appearance, opting for a simple, somewhat boring design.
If you're tired of the plain, minimalistic design of most tech gadgets, there are some more attractive options available.
Here are 7 smart gadgets that can be used as home decor while still providing the technology you crave.
Here are 7 best smart home décor items that are modern-day home decors:
(Note: Recommendations are independently chosen by IsmartDevice editors. Also refer the note at the end.)
Smart Home Décor Items: A system of internet security that smiles at you
Home Décor Product: CUJO AI Smart Internet Security Firewall | Free Subscription (2nd Gen.) – Protects Your Network from Viruses and Hacking/Parental Controls/used in Home & Business/Plug into Your Router
Price: $249 or Rs.19, 920 approx.
Nobody expects security systems to be adorable, which is why CUJO is such a pleasant surprise. The smart security firewall has a cute face that will make you smile. Plus, it will keep your network safe from threats—a win-win situation.
About this item:
SECURITY ON THE INTERNET 24/ 7. CUJO AI will protect all devices that are connected to your WiFi router. AI algorithms protect against remote access, malware, phishing, and other threats. CUJO AI is a home antivirus that protects all wireless devices.
ONLINE PEACE OF MIND. A hacker can trick you into visiting a malicious website, allowing them to access your email account, hack your cameras, and steal your photos. Exposed and unprotected devices indicate that you will be hacked when, not if.
KIDS BE SAFE. Finally, children are safe online. Not just malware, but also CYBERBULLYING and predators. Time limits and schedules aid in the enforcement of house rules.
PERFECT UI/UX. Simply update your LGI app and start reaping the benefits. There will be no difficult installation or hassle.
BLAZING FAST – constructed with 1GB Ethernet. CUJO will not cause your network to slow down. CUJO AI is not Luma compatible and does not support Google Wifi Mesh. It is compatible with Eero, Orbi, and other well-known mesh routers.
Smart Home Décor Items: A modern art-inspired sleep system
Home Décor Product: Hello MB15226/W1 Sense with Voice Sleep System – Cotton (Current Generation – 2nd)
Price: $110 or Rs.8,800 approx.
If you're going to keep a sleep sensor beside your bed, it should be visually appealing. The Sense Sleep System is a circular device with a modern geometric pattern that complements your decor while monitoring your Zs.
About this item:
Improve your sleep by doing the following: Get personalised insights and learn how to sleep better.
Sleep soundly: Sleep sounds assist you in falling asleep and remaining asleep throughout the night.
Wake up energised: Smart Alarm gently wakes you up so you can start your day feeling great.
Voice is now available: Speak with Sense to learn how well you slept, set your Smart Alarm, listen to Sleep Sounds, and do other things.
Smart Home Décor Items: A gorgeous mirror that can make phone calls
Home Décor Product: Vezzo Bluetooth Mirror
Price: $395 or Rs.31,600 approx.
If you're looking for a new bathroom mirror, the Viio Vezzo Bluetooth Mirror is a stylish and functional option. It has built-in LED lights and Bluetooth speakers for music and phone calls while you're getting ready.
About this item:
• Dimensions: 24″x32″x2″ • Sound quality • LED lighting • Hands-free calling
Improved Mirror. Mornings are getting better. Take advantage of Bluetooth 4.0 connectivity and high-quality dual speaker sound. The Viio Vezzo 24″x32″ LED mirror is ready to use right away. No wiring required to hang in landscape or portrait orientation. Anti-fog treatment for a moisture-free surface.
Smart Home Décor Items: A stylish 2-in-1 alarm clock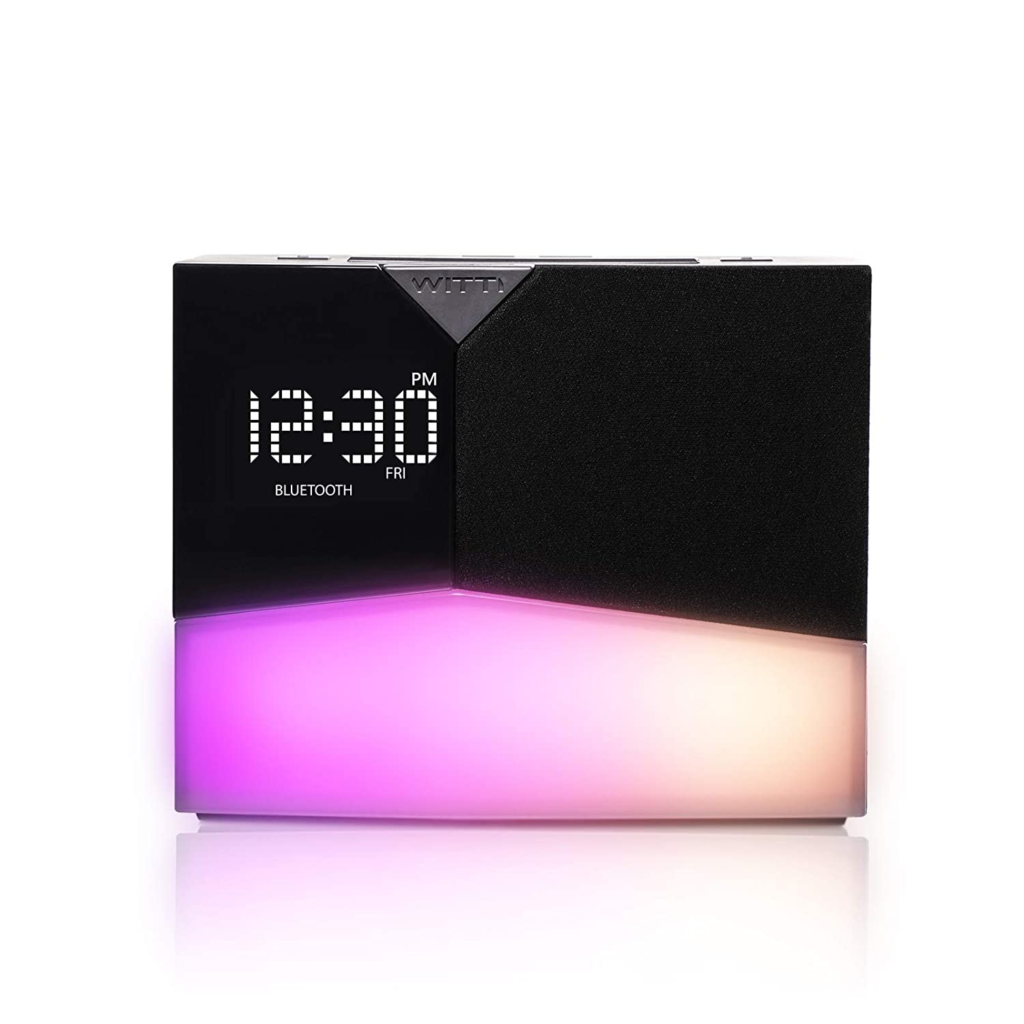 Home Décor Product: WITTI BEDDI Glow SE | App Enabled Intelligent Alarm Clock with Wake-up Light, Bluetooth Speaker and USB Charging Station
Price: $79 or Rs6,320 approx.
The BEDDI Glow Alarm Clock will look great on your nightstand. This product can not only wake you up in the morning, but it can also gently rouse you from your sleep by simulating a sunrise. What more could you want from an alarm clock than a Bluetooth speaker and a white noise generator?
About this Item:
• Bluetooth connectivity
• App-controlled speaker; 2 x USB charging ports on the top; sunrise stimulating wake-up light; colour mood light
Smart Home Décor Items: Geometric artwork is created by using modular lights
Home Décor Product: Nanoleaf Aurora – Smart Modular LED Light Kit
Price: $199.99 or Rs16,000 approx.
About this item:
Snap the panels together like LEGO pieces to create your own unique design. LED panels with 16.7M colours and tunable white (warm sunrise to brilliant daylight). Inside the Nanoleaf Smarter Series App, you can create your own colour palettes and scenes. Create and save your own lighting scenes and animations to quickly recreate the perfect ambiance.
Create and save your own colour palettes and white light settings for the Aurora and any Zigbee smart light that is compatible. Create and save time triggers to automatically turn lighting scenes on and off. Drill-free mounting kit included – no holes, no fuss! It is compatible with iOS, Android, Amazon Alexa, IFTTT, and Apple Home-kit.
IOS8+ or Android 5.01+ is required. WiFi control requires no hub or bridge. 3 methods for controlling your Aurora – Use your voice (iOS and Amazon Alexa) or the included controller or the Nanoleaf Smarter Series App to control the device. You can add up to 30 panels to your Aurora Kit.
Multiple Auroras connected to the same wireless network can be paired and controlled. To control multiple lights and further personalise your home, add Auroras and smart lights to room groups. It's even better if you have a Nanoleaf Smarter Cloud account. Add on the Nanoleaf Rhythm Module to make your light dance to the beat of your music. See related items below.
Smart Home Décor Items: A metallic essential oil diffuser with a sleek design
Home Décor Product: Lumiere Essential Oil Diffuser, Eco-Friendly Ultrasonic Essential Oil Diffuser, Aromatherapy Glass & Bamboo Diffuser, Warm Light & Auto Shut-Off
Price: Rs.5,273.92 approx.
About this item:
Handcrafted Bamboo and Handblown Glass: A real handcrafted bamboo base encases a BPA-Free reservoir for all of your favourite essential oils and aromatherapy fragrances.
Four Light Modes: A cosy warm white light that can be set to bright, dim, multi-mode breathing (brightens as well as dims rhythmically to your natural breathing), and an optional off light so you can sleep peacefully with none light while still diffusing your bedroom with all of your oils or cool mist.
Auto Shut Off Timer: With its convenient auto shut off once empty, you can enjoy a long restful sleep or leave the house without worrying about just the diffuser overheating. Choose from the optional 1 hour, 3 hour, 8 hour, and continuous timers to fill your space however you want.
Superior Diffusion: With this compact yet powerful diffusers patented funnel design, you can be confident in experiencing your essential oils and aromas in large or small rooms.
Purchase with no risk: Purchase with confidence, as we include a one-year warranty and a money-back guarantee. This diffuser's minimalist, modern, and sleek design makes it a lovely heartwarming gift for friends, family, or a significant other. Surprise someone with a thoughtful gift that will improve their environment and life.
Smart Home Décor Items: Elegant smart lamps for every room
Home Décor Product: Philips Hue Go White and Color Portable Dimmable LED (Bluetooth & Zigbee) Smart Light Table Lamp, White
Price: $89 or Rs.7,120 approx.
About this item:
BATTERY LIFE IS OPTIMIZED FOR DIFFERENT USAGE: The cosy candle setting lasts 18 hours, the dimmed, ambient light lasts 10 hours, the coloured light for creating custom scenes lasts 5 hours, and the soft white light for reading lasts 2.5 hours. This light is ideal for use as a living room, bedroom, or kitchen light.
COLORS IN THE MILLIONS: With 16 million colours of smart light, you can instantly set the mood for any occasion.
SET THE MOOD: With bluetooth-enabled led smart bulbs and the simple hue bluetooth app, you can easily set the mood. Control up to ten smart lights in a single room.
PERFECT FOR ENTERTAINMENT: Philips hue color-capable smart lights and accessories can flash, dim, brighten, and change colour with your media, bringing your movies, gaming, and music to life.
Note: All Products with electrical plugs are designed for use in the US. Outlets and voltage differ internationally and this product may require an adapter or converter for use in your destination. Please check compatibility before purchasing.
(Disclaimer: Ismartdevice Team is updating knowledgeable content in this blog from official sources and is not aiming to promote any particular source or business through this and also, do not hold any copyrighting rights under our names for the content)